CHEMICAL DOSING & METERING SKID / PUMPING SKID / VALVE SKID / PRS SKID / FILTRATION SKID / OTHER SKID
Products/Packaged Systems
»
»
»
»
»
»
»
»
»
»
»
»
»
»
»
»
Calorie HNT designs and manufactures skid-mounted process systems on time, on budget, pre-tested, and ready for utility hook-up to avoid costly down time. Plus, our project managers offer technical support throughout each stage of the process system project.
Our Skid mounted system are mainly
Piping, Valves, Instruments and Control Skids

Utility Gas Skid
Gas Scrubbers
Filtration Skids
Gas Heaters Skid
Dryers Skids
Pressure Reducing and Metering Skids
Water Bath Heaters Skids
Pressure reducing Station skid for gas/steam
Manifold Skids
Double Pipe Heat exchangers
Gas Filtering and Treatment Systems
Oil filtering and Treatment Systems
Oil & Gas Metering Skids
Pressure Reducing Skids
Chemical Injection Skids
Pumping Skids (with API pumps also)
----- many more
The skid mounted systems consists of, ball valves, check valves, control valves, relief and drain valves, pressure and temperature transmitters and control systems, so therefore, when the skid is received in the field, it is ready for connection, commissioning and subsequent operation. Don't need painting, welding, or field testing.
| | |
| --- | --- |
| | The Skid is Modular, Compact and self contained. |
| | The Skid has a smaller ecological impact, because it reduced footprint, it is ideal for offshore applications. |
| | Low maintenance. |
| | No concrete foundations required. |
| | It can be delivered, installed, commissioned and start up within a few days. |
| | Multiphase meter test on-line (in-situ.) |
| | The systems are complete tested in factory, (customer evaluation, Dye penetrant inspection, pressure test, RX inspection, functional tests) |
| | High specification paint finish for corrosion protection. |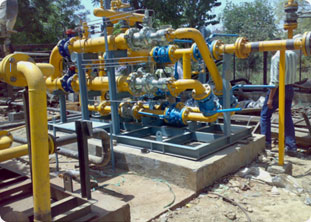 3-D design capability, with web-based drawing review basically eliminates the need for time-consuming drawing approval by allowing all parties in any location to review your skid project at the same time.
Design and construction are made under internal quality control and the guarantee of the equipments covers the process, the mechanical and all other issues. The equipments are delivered on turn-key. Technical solutions adopted allow to have shortest delivery time than other competitors.
As the design concept is modular the skids can be prefabricated and pre-assembled in our own workshop. With industry trends leading to more "shop" oriented and less "field" oriented project execution, it only made sense to provide pre-manufactured skids for our customers. Furthermore due to the complete and compact arrangement of pre-manufactured skids, the units are relatively easy to transport with almost negligible time of installation at place of destination.
All of our shop fabrication passes a series of checks to ensure dimensional accuracy, completeness, weld quality, and conformance to the design and specifications. The finished product then undergoes testing as specified by the customer.
Typical tests utilized in our shop include: x-ray, dye penetrate checks, hydrostatic and pneumatic testing for piping systems as well as point-to-point checks for instrumentation and electrical work (FAT - Factory Acceptance Test).