Products/Packaged Systems
»
»
»
»
»
»
»
»
»
»
»
»
»
»
»
»
Principle
Hydrogen Generation from hydrocarbon fuel is based on steam reforming of the fuel in a catalytic reactor. The reactor facilates the conversion of the hydrocarbon into hydrogen enriched gas in presence of steam. The reaction popularly know as steam reforming reaction.
Process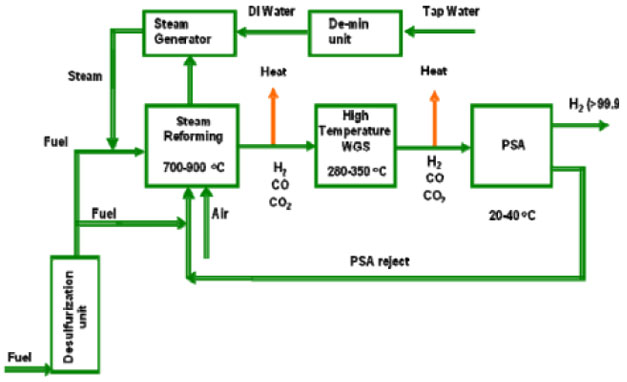 The feed fuel is first purified from contaminants like sulfur based compounds and fed to the reformer reactor which is filled with catalyst. Steam reforming reaction takes place at 700 ~ 900ΒΊ C. As a result of this reaction primarily H2, CO & CO2 is formed. The CO from this stream is removed by the water gas shift reaction. The resulting H2 enriched gas is further cooled to remove water. This gas stream now enters into a PSA Unit where it is further purified to level better than 99.999%..
Design Features
The plant is designed for maximum heat recovery in order to minimize the need of additional fuel consumption. It is properly instrumented and automatically controlled by industrial grade PLC system. Color touch screen display HMI ( Human Machine Interface) shows all the parameters and alarms. The control system is realized following a "fail safe" technology in order to maximize plant safety. Plant design and construction comply all relevant international standards and E.C directives.